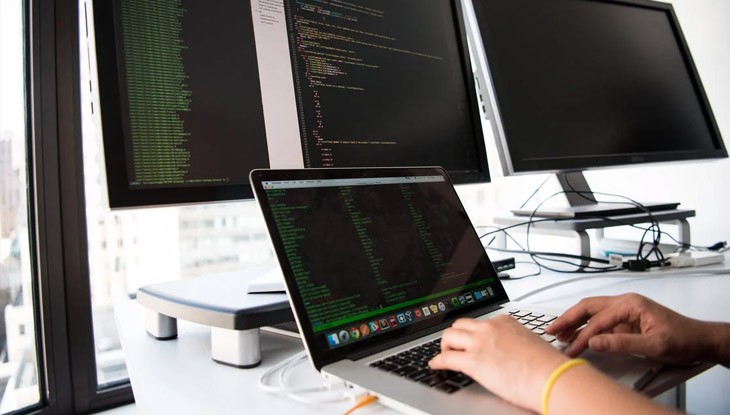 Course CRICOS Code:105507M
Overview

This qualification reflects the role of individuals in a variety of information and communications technology (ICT) roles who have established specialised skills in a technical ICT function.
Individuals in these roles carry out moderately complex tasks in specialist fields, working independently, as part of a team or leading deliverables with others. They may apply their skills across a wide range of industries, business functions and departments, or as a business owner (sole trader/contractor).
The skills required for these roles may include, but are not restricted to:
Advanced networking: configuring and managing virtual computing environments, and security within ICT networks
Advanced programming: applying intermediate and advanced programming skills, managing data and building advanced user interfaces to manage organisational requirements
Back end web development: developing and maintaining website information architecture and data
Business analysis: designing and implementing technical requirements, quality assurance processes and contingency plans for businesses
Cloud architecture: developing, improving, and designing cloud infrastructure, including disaster recovery plans
Cloud engineering: building, implementing, and managing cloud infrastructure and virtual networks
Cyber security: protecting sensitive data and information through security architecture and developing disaster recovery and contingency plans
Database and data management: creating, designing, and monitoring systems that store data and optimise organisational knowledge management
Front end web development: designing dynamic and complex websites, user experience solutions and documents using extensible mark-up languages
Game art and design: creating complex 2D and 3D modelling and animation software through scripts and storyboards
Game programming: creating complex 2D and 3D interactive games and media, building graphical user interfaces and applying artificial intelligence in game development
Systems administration: reviewing maintenance procedures and support to help troubleshoot system applications
Systems analysis: modelling and testing data objects, data processes and preferred ICT system solutions.
The latest release of the qualification and packaging rules can be found at the following link:
International students must:
Have completed the equivalent of Year 12. (*see IIE international academic admission guide for academic entry requirement)
Participate in a course entry interview to determine suitability for the course and student needs.
Have an IELTS* score of 5.5 (test results must be no more than 2 years old). English language competence can also be demonstrated through documented evidence of any of the following:
Educated for 5 years in an English-speaking country; or
Note that other English language tests such as PTE and TOEFL can be accepted.  You are required to provide your results so that we can confirm they are equivalent to IELTS 5.5.
This qualification will be delivered over 78 weeks, including 60 weeks of training and assessment spread over 6 terms of 10 weeks each and 18 weeks of holidays.Holidays are 3 weeks per term.
Class sessions are planned to ensure that students have a mixture of practical and theoretical components and those classes cater for a wide variety of learning styles. Additionally, workplace practices and environments are simulated and used to conduct skills-based assessments in accordance with unit requirements. The timing for this course will be advised in the Letter of Offer.
Core Units
| | |
| --- | --- |
| BSBCRT512 | Originate and develop concepts |
| BSBXCS402 | Promote workplace cybersecurity awareness and best practices |
| BSBXTW401 | Lead and facilitate a team |
| ICTICT517 | Match ICT needs with the strategic direction of the organisation |
| ICTICT532 | Apply IP, ethics, and privacy policies in ICT environments |
| ICTSAS527 | Manage client problems |
Elective Units
ICTPRG537

 

Implement security for applications

 

ICTNPL413

 

Evaluate networking regulations and legislation for the telecommunications industry

 

ICTNWK540 

 

Design, build and test network servers

 

ICTNWK546 

 

Manage network security

 

ICTSAD508

 

Develop technical requirements for business solutions

 

I

C

TCYS407

 

Gather, analyse and interpret threat data

 

ICTPRG535 

 

Build advanced user interfaces 

 

ICTCYS610

 

 

Protect critical infrastructure for organisations

 

ICTCYS613

 

Utilise design methodologies for security architecture

 

ICTSAS524

 

Develop, implement and evaluate an incident response plan

 

ICTSAS526

 

Review and update disaster recovery and contingency plans

 

ICTICT523 

 

Gather data to identify business requirements 

 

ICTPMG505 

 

 Manage ICT projects 

 

ICTWEB513

 

 

Build dynamic websites

 
Projects
Assessment methods used for this qualification will provide a range of ways for individuals to demonstrate that they have met the required outcomes including:
Projects
Observations
Portfolios
Supervisor reports
Presentations
Report writing
Questioning (oral or written)
At the beginning of each unit, trainers will outline the assessment tasks that must be completed.
Students may apply for recognition of existing qualifications or skills, knowledge and experience (credit transfer or recognition of prior learning) as per the information included in our International Student Handbook, which is available at www.iie.edu.au
For international students, the granting of course credit may affect course fees as well as the duration of the course.
The result of an application for credit and any changes to fees or course duration will be advised to students in writing.
If course credit is granted following issuance of the Confirmation of Enrolment, students will receive a new Confirmation of Enrolment showing a reduced duration.
Delivery Mode
15hrs face to face classroom-based
5 Hrs. Online Via Online Learning System
Delivery Location
IIE Main Campus at IIE Main Campus
Level 1 & 2, 16-18 Wentworth Street
Parramatta, NSW 2150, Australia


IIE Tasmania Campus at Level 1, 116 Bathrust Street, Hobart, Tasmania 7000
IIE Main Campus
IIE Main Campus
Level 1 & 2, 16-18 Wentworth Street
Parramatta, NSW 2150, Australia
Phone: 0061(02)88972125
Email: info@iie.edu.au | admission@iie.edu.au | international@iie.edu.au
Web: www.iie.edu.au